How To Measure Your Size
Take all of your measurements over any undergarments. Use a flexible tape measure and hold it in a relaxed straight line when measuring around your body.
Chest / Bust
Place measuring tape under the arms to measure the distance around the shoulder blades and the fullest part of the bust/chest. Do not hold the tape too tight.
Waist
Loosely place the measuring tape around the natural waistline.
Hip
Stand with feet a few inches apart and measure around the fullest part of your hips wearing your undergarments.
Inseam
Measure along the inside of the leg, from just below the crotch to 1" below the ankle, or to the desired length of the pants.
---
A Guide for Scrub Pants
What's difference from Tapered Leg to Straight, Flare to Boot? Let Affordable Uniforms make it simple for you. Read about different scrub pant design details to help you better understand what you're favorite scrub style is and how to shop for it easier.

Jogger & Cuffed Scrub Pants
Jogger scrubs and knit cuff scrub pants typically have a skinny leg that ends in the an elastic cuff. The fit is close to the leg and usually stop sjust above the ankle.
Flare Scrub Pants
Flares from the knee to the bottom hem. Noticeably wider at the hem than the knee. The fit around the calf is generally very loose, this cut often covers a portion of the shoe with tall side seam vents at the bottom hem.
---
A GUIDE FOR FINDING SCRUBS THAT FIT YOU
We offer scrubs in a variety of fits and styles so that you can always find scrubs that make loving what you do easier. Modern fit scrubs are not just for women under 20, they're for everybody, you just need to know the difference between Modern fit scrubs and Classic fit scrubs. Find what works best for you to get the most enjoyable experience from your scrubs and nursing uniforms. Below are some generalizations for our different fit scrubs to help you get a better idea of how different styles fit different body types. See Modern Fit, Classic Fit, Plus Size, Maternity, Unisex Fit, and Men's Fit. Keep in mind that these are general guides for overall fit. Each product description will give you more information about each individual scrub style. See our brand specific size charts for even more information.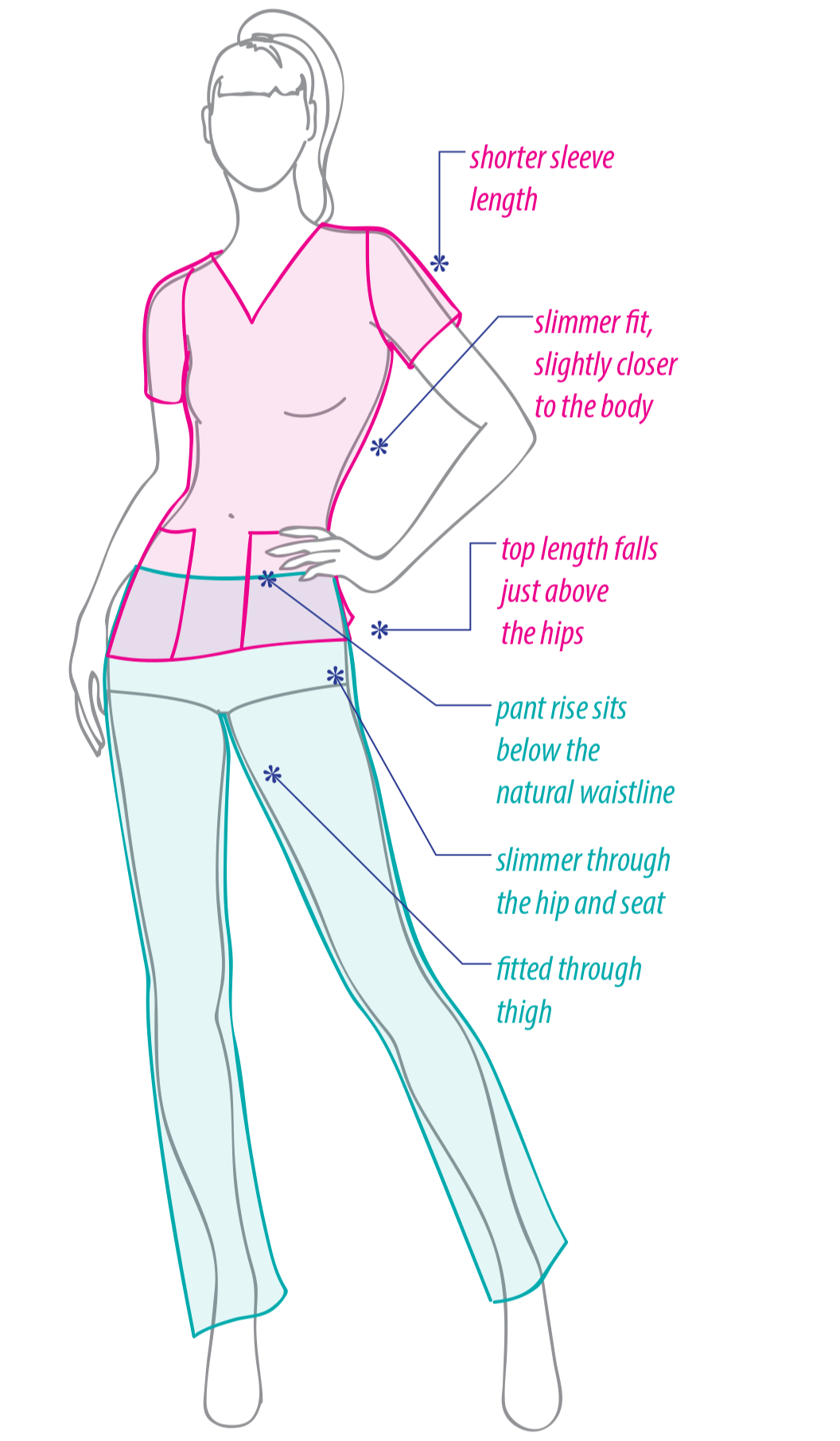 Modern fit has become the more predominate design and cut with collections that have feature more spandex and stretch in their fabrics.
Modern fit nursing scrub tops may have a slightly short sleeve length and a slightly shorter center back length as well. The main difference between modern fit and classic fit is that modern fit scrubs are designed and cut to fit closer to the body from the chest to the hip. Seaming and darting will pull the top closer to the body at the natural waist.
Modern fit scrub pants are more likely have a lower rise, below the natural waistline but generally above the hips.. They are also slimmer through the hips and butt too. They are cut closer to the thigh for a more fitted feel.
Classic fit scrubs tops will typically fall over curves and fit easily over the waist and hips. The top length runs a little longer than modern fit and covers a little more of the hips.
Classic fit scrub pants are more likely to have a mid rise or natural rise that sits at or just below the natural waistline. Women's fit & Missy fit scrub pants have a more relaxed fit through the hip, butt, and thigh.
Men's Fit & Unisex Scrubs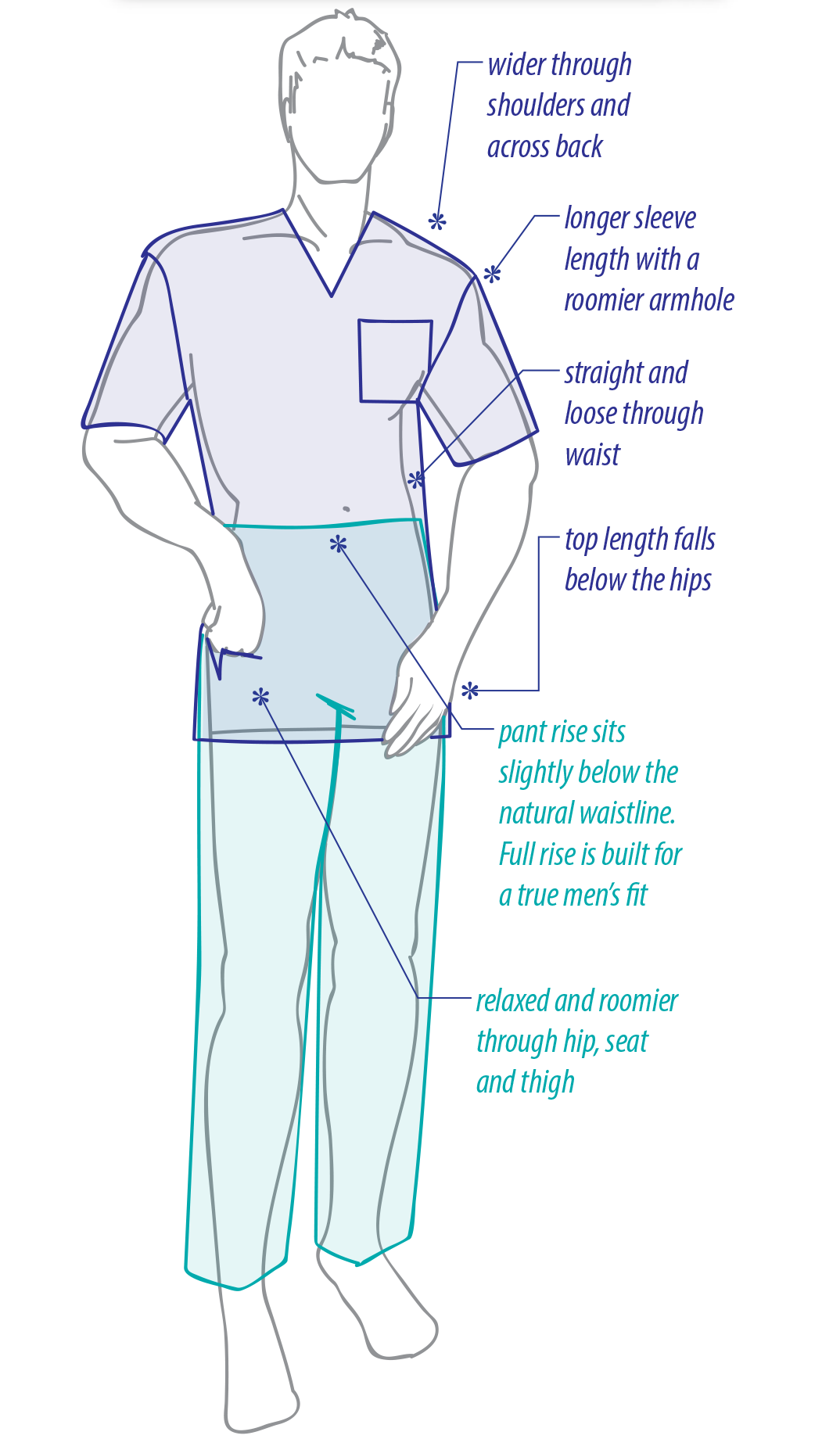 Unisex fit scrub tops have roomier armholes and fit straight and loose through the waist. The length of most unisex scrub tops will likely fall slightly below the hips, but reference the style description for the center back length. Unisex fit scrub pants have a rise that normally sits around the natural waist or just below with a more relaxed fit around the hips, butt, and thigh. Some women will go down a size when buying unisex fit.
Men's fit scrub tops are cut wider through the shoulders and across the back. They have longer, roomier sleeves and armholes. Men's fit scrub tops are cut straight and looser through the waist. The length of men's scrub tops falls below the hips in general.
Men's fit scrub pants usually sit around the natural waistline or just below. Men's fit scrub pants have a relaxed fit through the hip, butt, and thigh as well.
Plus Size Scrubs
Some brands, like WonderWink offer collections designed for Plus Size women. These designs feature longer cut sleeves and better coverage around the belly to keep you comfortable at work. Most Plus Size scrubs start at 2XL and goes to 5XL, some brands start at XL. Typically there is a price increase for Plus Sizes in men's and women's fits.
Maternity Scrubs
Maternity scrubs are designed to fit and grow with you through out your pregnancy. When you shop for Maternity scrubs at Affordable Uniforms you should buy your pre-pregnancy size, there is no need to go up a size in your maternity scrubs.