New Opportunities in Dayton, Ohio
Since 2008 Affordable Uniforms has sold scrubs at our retail stores in Dayton, Ohio. Recently the out-of-town franchisee decided to close the franchise location due to difficulty running the business from a distance. We believe that the Dayton market is still full of potential for a new franchise owner to take advantage of. This is a unique business opportunity in Dayton with great brand recognition in a high-demand market.
New Opportunities in Columbus, Ohio
Turn-key business opportunity in Columbus, Ohio available. This sucessful Affordable Uniforms franchise location is for sale now with steady sales, full inventory, and well trained staff.
Since 2011 Affordable Uniforms has offered the best selection of nursing scrubs and medical uniforms in Columbus, Ohio. This established retail store is currently corporate owned.
Affordable Uniforms is Ohio's medical uniform superstore and the country's premier scrub store franchise. We specialize in providing the largest selection of medical uniforms, nursing shoes, and accessories. We strive for an extremely high level of customer service, all while saving the consumer money and making money for our franchisees.
Starting your own business can be challenging; you don't have to do it on your own. Affordable Uniforms' franchise system helps to protect your business investment and saves you money through the buying power of our existing franchises and our developed franchise system. Affordable Uniforms has been selling great, fashionable scrubs since 1995; we have years of experience to share with our franchisees. Our President has been working with uniforms for over 30 years and has opened many Affordable Uniforms retail locations, negotiated leases, and created the Affordable Uniforms On Site division.Text
In 1995 Mark Vana was 32 years old, married with three young children, and had three jobs taking home about $24,000 a year. One of his jobs was as a route salesman for an industrial uniform rental company. This rental company often had an excess of used garments that they would throw away simply because they didn't have room for them anymore.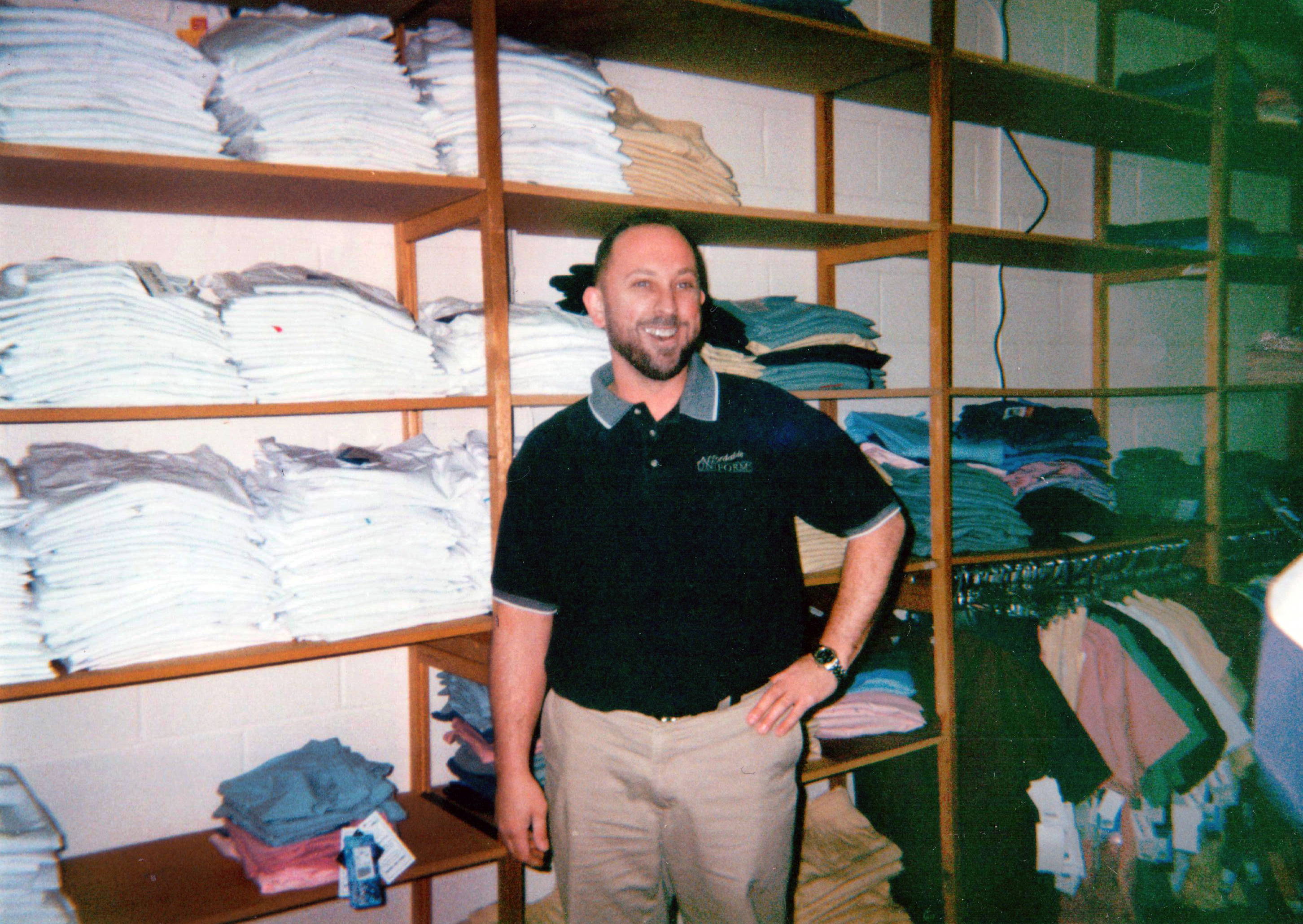 Mark had the idea to begin taking these used, yet adequate work clothes and sell them to a small retail store called Affordable Workwear, located in Garfield Heights, Ohio, that sold new and used work clothes. Mark would take a cargo van full of used work clothes to the manager of the shop for a couple hundred dollars. The extra $200 that Mark made on these work clothes was a small fortune for the young father of three. Some time later, Mr. Vana noticed that Affordable Workwear was going out of business and he was going to lose his much needed extra income. He decided to speak to the owner about the decision. After meeting the owner of Affordable Workwear, he began an immediate friendship with him based on their common Christian faith and similar business interests. A deal was arranged, and Affordable Workwear was no longer going out of business. The work clothing company was soon under new ownership.
FROM USED WORKWEAR TO SCRUB SUPERSTORE
With his new business, Mark quickly saw the need for affordable scrubs and medical uniforms and was able to slowly introduce medical apparel into the store. This was an immediate success, and soon the number of medical uniforms exceeded the number of work uniforms. Mr. Vana expanded his small, 1,000 square foot store to make room for more medical uniforms. Affordable Uniforms became the brand name in 2000 in order to reflect the new direction and success of the business. A second store was added in 2000, as well as an On-Site Sales division that is designed to service hospitals and nursing homes. Friends and family saw the success of the company and asked how they could become involved with the business venture. With the addition of new members in the company in 2002, the current medical uniform and scrub store franchise was born, and the third location of Affordable Uniforms opened. The success of Affordable Uniforms has continued to skyrocket due to the rapid growth of the healthcare industry. Today, there are seven Affordable Uniform locations that all reside in the state of Ohio, and the On-Site Sales Division also continues to thrive. The original Garfield Heights location is still owned by Mark.
If you can foresee the future potential for even more success and growth of our scrub franchise due to the exploding healthcare industry, take a minute to request the information that may change your future and put you at the front of this exciting business.
Affordable Uniforms provides initial one-on-one training at our corporate headquarters located in Cleveland, Ohio. The training lasts for at least one week, and gives you the tools and skills you need to know about site selection, initial inventory ordering, pricing, uniform fashions, store design, and much more. That's not all; we come to your new scrub store franchise and work with you and your new staff at your location; making sure you are prepared for your grand opening. We spend a minimum of two weeks at your location to make sure you're comfortable running your business. Don't worry, if you feel like you need more training, you only have to ask. We welcome franchisees at our flagship store year round for as long as they like. At our flagship store you can work with an experienced staff learning the exact skills you'll need in your day-to-day business. The same goes for additional on-site training; your never on your own with the Affordable Uniforms scrub store franchise
Besides material support and business guidance, part of our support comes from our vendors. As part of the franchise system, you will have access to the biggest names in our industry, like Cherokee, Dickies, Barco, WonderWink, Dansko, Landau, Littmann, Koi, and a lot more. We've built a trusted brand reputation with our vendors and have earned discounts that can save you thousands of dollars every month! Being part of a group as big as ours and as successful as ours has benefits that other uniform stores never receive. You'll get the benefit of seven superstore locations before you even open your doors and it will fast track you to success.
The support provided to our franchisees is never ending. We continually aid our franchises in areas such as marketing, ordering product, selling to groups, and advertising. Our franchise intranet is full of resources that you can use in your store and online to help sell to customers as well as help train employees. All of these aspects are crucial to the success of an Affordable Uniforms franchise.
We understand that sometimes these tasks feel like a lot to take on, especially for first time business owners; we are here to give you the tools you need to create success in your market. Your franchise support will always be just a phone call or e-mail away. Any time you have questions, one of our staff will be able to assist you and help you fine tune all aspects of your business, giving you the advantages you need.
Success Stores
BRIGETTE & DAVE | FRANCHISEES SINCE 2002
Brigette and Dave own two scrub stores and get almost all the help they need from their 9 daughters! Family friends of the Vana family, saw the fast success of the business and they asked "How can we get involved?" After much prayer and careful thought, Brigette and Dave became the first franchisees, but not the last. In 2013 they purchased their second location. Brigette handles the day to day operations of her franchises with her daughters' help. Their scrub franchises continue to grow and become more and more successful as time passes.
VICKI & TROY | FRANCHISEES SINCE 2005
Vicki and Troy own two franchises and are our most successful owners. Early on Vicki and Troy noticed what was becoming of Mark's nursing scrubs business and they also approached Mark about an opportunity to open a franchise. In 2012 they purchased their second scrub store franchise. Their two locations continue to grow very rapidly thanks to the friendly service that Vicki gives customers and Troy's careful attention to detail and financial planning. Troy came from a similar career as Mark, driving a truck and route sales for a soda company and he says he doesn't miss it at all.
Let us answer a few of the most common questions we hear about our scrub store franchise opportunity. Take a few minutes to read through these questions and answers in order to gain a better understanding of how we opperate our scrub store franchise.
Q. WHAT TYPE OF FRANCHISE IS AVAILABLE?
A. We franchise the right for you to establish and operate a retail scrub store that sells medical uniforms and professional garments. We specialize in medical uniforms, nursing shoes, and accessories. Providing the largest selection of discount nursing scrubs and accessories, we strive to for an extremely high level of customer service, all while saving the consumer money.
Q. WHAT ABOUT ADVERTISING?
A. Affordable Uniforms takes a customized approach to marketing your franchise that you will have access to when you become a franchise. We sometimes charge up to 1% of your revenues to help fund the corporate marketing campaign that will continue to build and develop the brand for your market. We do not always have a corporate campaign in place so we do not always charge a marketing fee. Any additional funds from a corporate campaign are redistributed back to you.
Q. HOW MUCH TRAINING IS PROVIDED?
A. The initial training covers all material aspects of the operation of a Affordable Uniforms franchise and is comprised of classroom and on-the-job training. We also will provide training at your location and work with you and your staff before your Grand Opening. We provide at least three weeks of training. Additional training is always available to you. Also, our franchisee intranet provides lots of resources to make operating your scrub store franchise easier and faster.
Q. HOW MUCH DOES THE FRANCHISE COST?
A. The initial franchise fee is $25,000. The average cost, including the franchise fee, is $250,000 to open a retail store. This average includes all expenses including inventory, signage, computers, fixtures and more. The total investment is between $175,000 and $325,000.
Q. HOW MUCH IS THE FEE FOR CONTINUING SUPPORT SERVICES?
A. The continuing services or "royalty fee," is 5% of your net sales and is paid monthly. This fee entitles you to use the "Affordable Uniforms" service mark, use of distinctive system, marketing assistance, ongoing business development and counseling, and other benefits that come with being an Affordable Uniforms franchisee.
Q. WILL I HAVE AN EXCLUSIVE TERRITORY?
A. Yes, you will have an exclusive retail territory. We will grant you a large territory that is defined by zip codes or other physical, or natural boundaries. You will have the only Affordable Uniforms scrub & uniform retail store in your territory.
Q. WHAT FRANCHISE TERRITORIES ARE AVAILABLE.
A. Currently, we are offering franchises anywhere in the United States. Specifically, in Ohio we are looking to open franchises in Dayton, Cincinnati, Toledo, and Youngstown. We like to open scrub store franchises around larger cities with a population of about 75,000 people, because where there are people there are nurses and health care professionals that need uniforms and great service.
Next Steps
We'd love hear from you. Let us know what question you have about Affordable Uniforms' Franchise Opportunities